Celebrating the inclusion of people with a learning disability - Don't Delay - Nominate Someone Now!!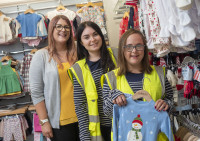 Every year we hold an awards ceremony to acknowledge and celebrate the efforts of those who have made an extra effort to include our children. We encourage nominations all year round to recognise the many hidden heroes who make our children's lives so much easier.
Last year was the 26th Anniversary Ceremony and was a fantastic success.
Over 120 attendees saw Awards made to some amazing people who deserve recognition. 
A full report is below
We are planning the next Awards ceremony now but due to the Covid-19 outbreak are putting things on hold.
We shall be seeking nominations for an event once it is safe to meet again and will post an online nomination form in due course
Until then, if you have a person, group or organisation to celebrate please let us know